We often need to consume plenty of complex data and information in a short amount of time. But sometimes, this amount of information can get overwhelming. This is when you start experiencing Information Overload.
Information overload describes the difficulty to learn, understand, and make decisions due to the excessive amount of information available to a person when completing tasks.
And this is pretty common.
Apart from the huge amount of information that bombards us through the internet and social media, our jobs also require us to analyse plenty of complex charts and make difficult decisions on a daily basis.
Not to mention, we also need to constantly learn new things for our own continuous professional development.
Common Causes of Information Overload
Just as there's so much information available out there for us to consume, there are many causes of information overload. Here are just some of the most common reasons:
Constant need to upskill and learn
Huge amounts of new information being created constantly
Competition to create content leads to a quantity-over-quality effect in many industries
The ease of creating, duplicating and sharing of information online
The exponential increase in channels to send and receive information by the different social media platforms
Plenty of conflicting, contradictory, and inaccurate information
No simple methodologies for quickly processing, comparing and evaluating information sources
Information Overload is Evident in Traditional Maintenance Training
Sadly, most traditional training programs in our industry are structured in a way that makes us vulnerable to information overload.
For example, if you want to get training for yourself or your team in Maintenance Planning & Scheduling, you'll find that most courses and training programs out there are 3-day live workshops. (since COVID-19 many have become 5 half-day Zoom sessions.) 
This means they'll pack all the information that you need to learn in those 3 days.
But in reality, 3 days isn't nearly enough to digest and understand everything you need to learn about Maintenance Planning & Scheduling.
It's like drinking from a fire hose — you get a huge amount of information into you in a short amount of time. It's difficult to absorb. And difficult to remember. This type of learning is not effective for long term change.
In fact, research has shown that this type of short intensive training course results in low levels of knowledge retention, very limited change in the client organisations, And in general, pretty poor return-on-investment.
That's why… after three months, you will have forgotten most of what was covered in those courses. And you usually have no chance to go back and review them unless you vigorously take notes. If you think about it…
It took me almost 20 years to master this process and create an effective implementation framework. But they're expecting you to apply what you learned in that short amount of time to your organisation. Even though they would only teach you purely about theory.
No assignments. No engagement. No testing to see if you learned anything. As a result, you don't get sustainable results. And you become discouraged in your Planning & Scheduling efforts.
PS100: Implementing Maintenance Planning & Scheduling Course.
If you want to avoid information overload in our already information-saturated industry, you need to learn at your own pace.
That is why I created the PS100: Implementing Maintenance Planning & Scheduling Course.
We set up our training programs to be fully online, on-demand video-based training (we did this well before COVID hit because of the improved knowledge retention it provides)
Aside from video, we made available to you the slides, and the audio and text transcripts so you can learn in your preferred medium.
We add assignments, so students (are forced to) think about how what they've learned applies to their workplace
We get students to complete quizzes so they interact with the content which increases knowledge retention
We created an online discussion forum and live Q&A sessions. Just imagine me and other maintenance professionals answering any and all of your maintenance-related questions.
We include a final exam to ensure students have clearly learned what they need to learn before we issue them a Certificate of Completion and our Digital Credential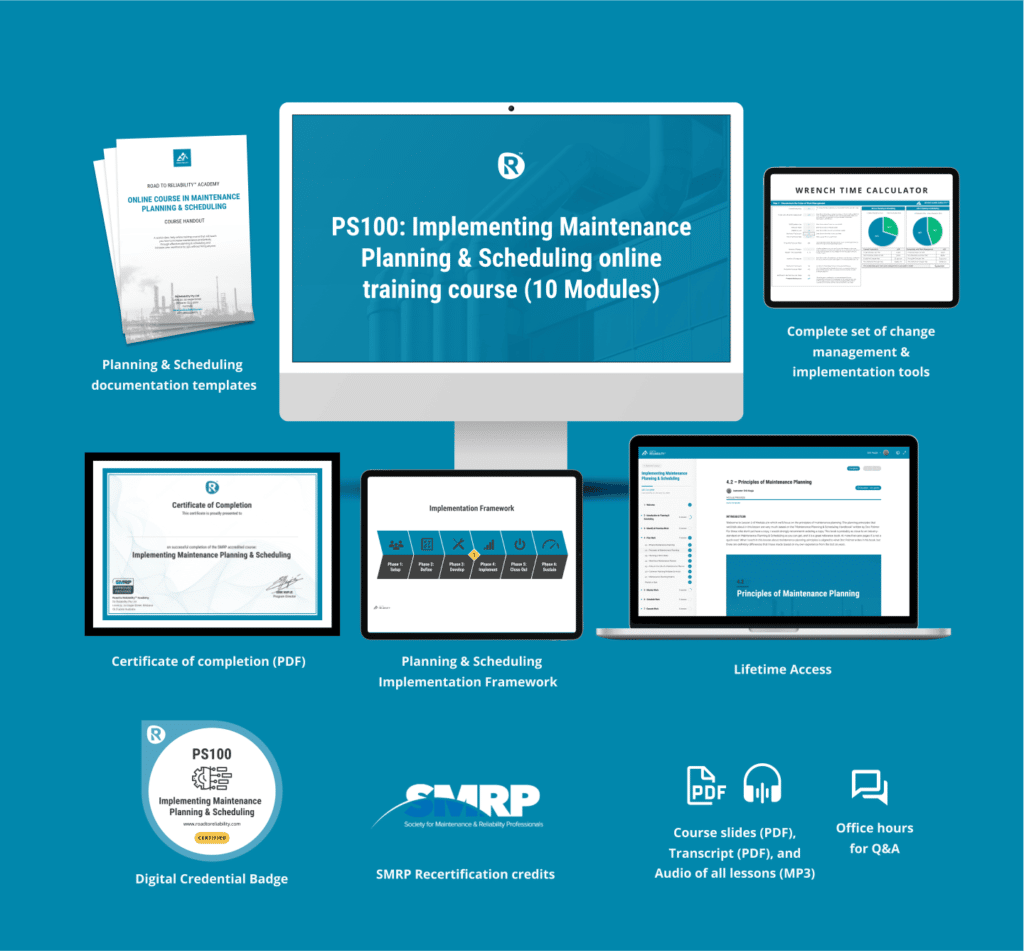 The best part is… you get Lifetime Access to everything inside!
Meaning, you can learn at your own pace. And go back to any video lesson at any time, no matter how many times you want to.
And what TRULY makes this course different from the rest…
Is the Implementation Framework that you'll find in Module 10. Inside, I'll teach you the framework that addresses Project Management and Change Management principles so you can effectively IMPLEMENT your Planning & Scheduling process. Without them, your Planning & Scheduling efforts will NOT get you sustainable results.
Now…
You don't need 20 years like I did to master Planning & Scheduling.
All you need is 10 weeks or less.
I did all the trial and errors, I went through all the firefighting, and I've consumed many other Planning & Scheduling courses.
And I've condensed all of my experiences and learnings into the course.
If you want to level up as a maintenance professional but don't want to spend 20 years of your life learning and hopping from one course to the next…
…then all you need to do is to take the course. Consume at least one hour of lessons every week. And do the assignments. You can click this link to learn more about what the course has to offer.